The Best Results
J.T. Fast Cleaning Ltd. is a specialist in external pressure jet washing services. We have invested heavily in equipment and vehicles over the past five years to create an unrivalled service in this sector.
We offer van-mounted, diesel pressure washing systems that will simply blow domestic pressure washers out of the water.  Our current set up allows twin operators and hot water cleaning that will remove even the most ingrained dirt quickly.
This allows us to work in any location, supplying our own power and water.  We hold contracts with our local water supplier and can access water in most areas where a hydrant is available and additionally, we carry a 2000 litre onboard water tank should water access be an issue.  After all the work, we clean up ensuring drains are free-flowing, walls and windows are cleaned, footpaths and walkways are clean and the neighbours are happy.
SERVICES WE OFFER:
Patio Cleaning
Pressure Washing
Driveway Cleaning
Decking Cleaning
Patio, driveway and sandstone cleaning
The wow factor after cleaning a patio or driveway is always something we enjoy!  Often, we uncover patterns in the brick the client had forgotten about.
Using a range of flat surface cleaners, turbo nozzles and lances, we return the stone back to its original glory.  Unlike some cleaning companies, we do not leave stripes, dirty sections and an uneven clean.
 Our process includes:
Treat the area with a fungicidal weed killer 7-14 days prior to cleaning
We clean the area with our high-pressure systems
If the area requires, we re-sand it once dry to stabilise the block and visually enhances the area.
Apply a residual weed killer and seal (if necessary)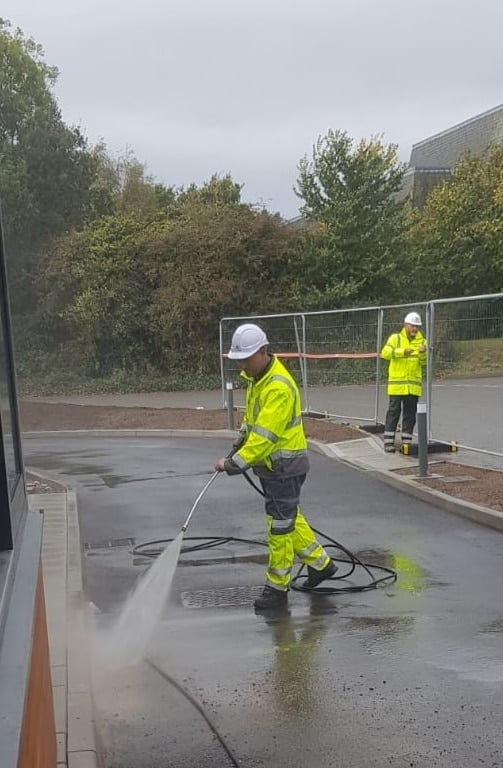 Decking Cleaning
We offer a complete decking restoration service.  These areas can become slippery and dangerous when algae and dirt build up.  Our process includes:
Clean the decking with a simple high-pressure wash
Apply a stripper and/or cleaning solution via brush and allow to dwell
Plenty of rinsing and repeat if necessary
Stain or leave as a natural look
The process we use prevents damage to the wood and an uneven clean which almost always happens when an inexperienced cleaner uses a pressure washer only.  
Do it once – Do it right!